This page is an overview of important events that happened in Waterfall Creek.
Annual Events
Edit
Spring Festival
Edit
Spring Festival is an annual two day event in Waterfall Creek. It takes place on the first weekend after the official start of spring. Spring Festival was created by the city so that there would be a secure environment for the young people of Waterfall Creek to have a bonfire to celebrate the end of winter. The ceremonial purpose of the event is to honor the
founding families
.
Before 1852 the first weekend of Spring was just a public outing ; everyone wanted to see and be seen. On Sunday evening, the young people would create a bonfire somewhere in the woods. In 1852 the major decided to create an event to prevent the bonfire to get out of controll , and to create more supervision. He decided to attach the Founders' Diner to give the Festival a better purpose.
Later the first day of the weekend became a day off to create a work-free weekend for anyone , so that everyone could help with the preparations. In theory it just became a day off.Around the millenium change the Founding Families started to host little 'pre-parties' before the Founding Family diner. 
Structure
Edit
DAY ONE

Fair + barbeque(s) and/or cocktails
Founding Family Diner : The Founding Family Dinner is hosted by one of the founding families, appointed by the history comittee. The dinner also includes an award ceremony, for biggest social contributor to the town. The nominees are invited too, which is why being nominated is considered a huge honor.

In 2010 this was Alyssa Miller for paying for the repairs to the brige.
In 2014 this was Mila Romano for the hospital fundraiser auction of her pictures.

Bonfire
DAY TWO

Debutante Parade : One of the festivities where judges will pay attention to the behaviour of debutants. The debutantes will be selected to join the culture comittee to help preserve the cultural value of the town. Being in the debutante parade is considered obligatory as a member of the founding families, but there's flexibility to these rules.

Spring Ball : Spring Ball was originally a get-together for young adults of the town, with a bonfire. Now it's a ball held at the school gym and it includes a special traditional debutante dance. It is the premiere of the debutantes in their new roles, and it's often a very exciting moment to show off their new dresses and gowns, as Spring Ball is largely covered by the local newspapers.
Claire and Seth attend the fair and Claire participates in the debutante parades
Lauren and Nate attend Spring Ball.
Payton and Claire host a dinner in their house for Justin and Chris to honor the memory of their deceased parents and founding family members. (Chris does not show up)
James, Elisabeth, Jason, Payton and Alyssa and Justin all attend Spring Ball
Payton and Claire host a big founding family dinner for over 15 members of the founding familes. Alena's crying makes the house loose power for a brief 5 minutes
no attendants for Spring Ball
Fall Festival
Edit
Fall Festival is an annual 3 days event in Waterfall Creek. It takes place during the final weekend of October.. It's a tradition that the festival falls on a full moon (because the moon was associated with nature and magic) and during that night there are a lot of activities in the towns square.
Fall Festival started as an event to honour the death around the time of Halloween. Fall was associated with nature and magic and therefore one of the main aspects of Fall Festival. As a way to honor the death they held a parade of light (with candles back then and lampions nowadays). When the humans in the founding families didn't tell their children about magic Fall Festival changed. It wasn't necessarily a celebration of the death and magic anymore. It did still get associated with Halloween and therefore a lot of children go for Trick of Treat with Fall Festival.
Today Fall Festival is fun time for the whole family to do stuff at the town square. Music, games and other activities find place there. It's a good time to meet up with neighbours and friends. Drinking chocolate milk and eating caramelised apples is a tradition. People help carve pumpkins to decorate the town square and at night the whole town square is lit up. The tradition with the parade of light still stands and everyone tries to help out to make that a big success.
And as Fall Festival still falls together with Halloween there are a lot of children Trick or Treating. As a result of the town's history a lot of children still dress up as witches or vampires. But no one really knows why Fall Festival is celebrated anymore. High school students throw Halloween parties and it is the time for them to have fun and pull some pranks. Fall festival is also the time where a lot of young citizens get drunk for the first time, so there is a lot of parental supervision advised by the police
Structure
Edit
The first evening starts with a speech of the mayor about how wonderful the town is and how lucky they are that they have the opportunity to live here. Waterfall Creek is a friendly community. The last evening always ends with fireworks and a lot of people go to watch that, so the town square is full of people. People from all places come to experience Fall Festival in Waterfall Creek, so it is the most busy weekend of the year. Therefore the preparations start a few weeks beforehand and a lot of Senior students from SJBS get to help out to pull up their grades.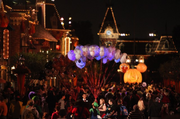 Jason and Payton have a date at Fall Fest.
Alyssa attends the party with one of the school's athletes
Season One
Edit
Back to school / Labor day party - Saturday September 1st, 2007

Dean invites the entire Junior class on August 20th
Samantha convinces Dean to reschedule the party to September 1st, because of their drug problems.
Justin, Mike, Mila and Katie and Max attend.
Soundtrack: Don't Matter (Akon)
Justin gets pretty drunk, and Katie finds out about Dean & Samantha sleeping together.
Dean & Max secretly make out, almost being discovered by Katie. Samantha stays over at Dean's place after the party 

PARTY - Friday September 14th, 2007

Seth and Jason attend to try and find the spy
Claire, Justin, Mike, Lincoln, Dean and Max attend.
Max tries to encourage Dean to come out, but Dean avoids being seen together after what almost happened with Katie at the last party.
Seth saves Claire from her fall
Max walks Claire back to the school

PARTY - Friday September 21st, 2007

Mila, Katie
Mila and Katie discuss the kiss. They find out about Max & Dean, but agree to not say anything until Dean talked to Samantha
Season Two
Edit
Season Three
Edit
Season Four
Edit
Chris' Labor Day Party - September

Chris, Nora, Phoebe attend
Soundtrack: Call your girlfriend (Robyn)
Season Five
Edit
Season Six
Edit
Ad blocker interference detected!
Wikia is a free-to-use site that makes money from advertising. We have a modified experience for viewers using ad blockers

Wikia is not accessible if you've made further modifications. Remove the custom ad blocker rule(s) and the page will load as expected.