James Dawson
Biographical information
Full birthname
None
Also known as
None
Titles
None
Born
1575 in Bretagne, France.
Turned
1611 in Paris, France
Died
Poisoned (turned)
Battle with the Anconi
Age
36 (physical)
432/433 (Season One)
Occupation
Unknown
Residence
The Dawson House
Supernatural information
Species
Vampire
Bloodline
Unknown
Abilities
Family & Relationships
Parents
Unknown
Siblings
Julie Dawson
John Dawson
Relatives
Unknown
Sexuality
Straight
Relationships
Elisabeth Dawson (wife)
Children
None
Physical description
Height
6'0"
Hair Color
Brown
Eye Color
blue
Portrayed By
Alex O'Loughlin
James Dawson is an important character in Touch of Magic. He is married to Elisabeth Dawson.
He is a vampire and the leader of The Dawsons.  
James was born in 1575 in Bretagne, France. He was the oldest of 7 siblings. Three of them , including James, where giving away by their parents in exchange for keeping their property. James, and his younger siblings Juliet and Jean were taken as a sacrafice in 1601.
James was able to escape and left his siblings in order to survive. However his freedom was short-lived after they chased him down and continued with their plan to turn him into a vampire. Left alone by his creators after being turned, James found the mild satisfaction of animal blood and tried to continue living his life
About 100 years later he found the young woman named Elisabeth in Paris. James saw something in the troubled woman and turned her as his companion. But soon enough , he fell in love with her. He got off the human blood and made sure Elisabeth never drunk human blood in her life. 
After having spent more then a century together in over 20 cities , they found Jason and shortly after Seth. The two boys joined James and his now wife Elisabeth and they traveled the world , building houses for them to return to every once in a while.
One of those houses was located in Waterfall Creek , a town they helped founding.
James and the rest of his extended clan settle back in Waterfall Creek in the 21st century. He orders the only two singles , James and Seth , to infiltrate in the high school. He gets into an argument about it with Alyson and Elisabeth , who both claim the boys look to old to that. James replies by saying he is almost 500 years old. Seth and Jason turn out to have no trouble infiltrating , despite them being killed at the ages of 24 (Jason) and 23 (Seth)
James realizes his clan has become very large , counting 9 (only 8 officially) members , and struggles with the responsibility. Elisabeth comes up with the idea of dividing the tasks.
One year after their move , James is faced with a serious problem when Seth starts transition. James makes the decesion to send Seth off to Brazil , a place that will keep him in check because of the lack of mobility due to the sun and the heat , and a place where he can work out his energy in the woods. Jason's transition , however , goes not so smoothly. Dylan and James get into an argument on weither the messures James takes for Jason are really necessary. And when Dylan decides to disobey , James is furious. A little while later , Payton manages to convince James after all to change his methods. She gets a change to help Jason , and is succesfull for a short time. But then it fails , and James decides it is better to keep up his methods.
The following year , he and Elisabeth leave town to go to Chicago , after Elisabeth has decided to return to university , this time choosing for medecine. James does return in a few occasions , but spends the next 20 months mostly in the Windy City.
He and Elisabeth return to Waterfall Creek when a mysterious phenomenon appears : Payton turns out to be pregnant of Jason's child. James at first is very much against it and kicks Jason out of the group. Later on , however , he will take that back. His opinion still hasn't changed. When James asks Jason how he plans to raise a child in their world , Jason asks for James help both financially and mentally. James denies this , and after Elisabeth has shown her support to the parents to be , he leaves.
Shortly after that , he is reunited with the others ,but not in a cheerfull way. The Anconi has captivated him , and want to exchange him for Payton's child. When Payton refuses , the Anconi badly wound James and go after Payton. Lauren and Nate , however , prevent this. They die while protecting Payton.
Eventually , Claire uses a force-shield and Payton demands to see James, who Elisabeth has taken to the medicine-room -a room Payton can barely walk foot in-. She asks Elisabeth to leave them alone. She casts a spell on the room to mask the purpose of it and to block it from the outside , so that Payton is able to use her powers to heal James. Both James and Payton need a few more days to recover , but in the end they both survive.
James holds a funeral for Lauren and Nate's death a week later ,and Payton goes into labor that evening. James and Jason both exchange a severe look , after which James orders Elisabeth to prepare the room , implying his agreement in the matter now.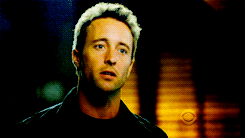 Relationships
Edit
He is foster parent to Jason, Seth, Nate and Lauren as is believed by the general public during the high school days.
Relationships
Edit
James and Elisabeth are married and are leaders of The Dawsons together. James is also Elisabeth's sire. They have a long history and they know eachother very well. (see more : Elisabeth and James)
Viviane was James' first love.