"
I guess I could add one more Queen title to my list...
"

— Claire to

Mila Romano

about becoming Junior Prom Queen
Claire Silverstone is one of the main characters in Touch of Magic. She is the younger sister of Payton and Liam. She is the long-time girlfriend of Seth Dawson. They have twin daughters named Amanda and Alexis together.
Claire is an alumni of SJBS. She then persued a fashion carreer. With Alyssa Miller she runs her own clothingstore and she has designed several collections. Alyssa is one of her closest friends along with her best friend Justin Saphire, Mila Romano.
She is magical Royalty as a twiceblessed witch of both the Silverstone and Greene Bloodline giving her the title of Queen Claire in Divitia and Princess Claire in Slivatica. She is also a part of The Silverstone Family and The Greene Family. She is also a part of The Dawsons by lineage, being the mother of Alexis and Amanda. 
Early life
Edit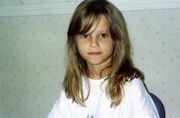 Claire was born to Christopher Greene and Lillian Silverstone as their second child. Condsidering Lillian's family history with infertility, Claire's conception was considered a huge blessing. However the joy was temporary, as soon the family faced their troubles with the upbringing of the young witches.
Her father, who had become an alcoholic before Claire was born, only had eye for Claire which caused her older sister to be ignored. (see more: Christopher and Claire) Meanwhile Claire's mother noticed how Chris was ignoring Claire's powers. Lillian did her best to expose Claire to the magic from her side of the family, something Christopher refused to do.
A few months after Claire turned two, her parents died in an attack by The Valkyries and The Millers. Claire's protective shield kept her and her sister alive during the attack. Claire has no actual memories of the night, but through reading Payton's mind throughout the years she has been able to form a visual for herself.
She was raised in the magical dimension as princess Claire for all of her childhood years. Legally she was under the custody of her paternal aunt Lucy Greene, who became queen of Slivatica while she lived in Texas. When Claire was 14, Lucy decided to let Claire and Payton be boarding students at SJBS, and she moved to Texas, distancing herself from her nieces mostly.
Claire started in Freshman year, while her older sister Payton had to drop a year and start in Sophomore year. She shared a room with Payton.  While attending SJBS she meets most of her close friends, including Justin Saphire and Mila Romano. She also befriends her sister's friends such as Mike Creeton and Pierre Dumoulin. Claire also got great at art, growing a passion for designing and fashion.
Season One
Edit
Claire is a junior in high school when

The Dawsons

arrive in town and change the rest of her high school career.

Payton tells her to stay away from them when two members become their classmates at school. However Claire eventually come face-to-face with Seth and she has little but no choice but to talk to him. They exchange an akward conversation and both decide there is no point in faking anything. Claire then finds herself offering way more than she should when she promises to give him a tour of the building, because he saved her at math. When her close friends, among which is Justin Saphire, catch on to the fact that the boys are new, Claire comes clean to her sister that she knows Seth better than Payton would like. When Seth looses control shortly during their tour, Claire starts to realise why her sister warned her. However Claire still thinks Seth and his family isn't evil, so she gives them a chance. When Jason saves her from Lincoln, an undercover vampire, she realises that there are bigger evils to be afraid of. Payton and Claire then have a meeting with the Dawsons, where their initial questions get answered and they attempt to find a compromise.


When Seth's go haywire during class one time, Claire is worried and goes after him. While Seth tries to explain her it is better she stays away, she still follows him statig she knows what he is going through hiding a secret at the school. Seth then admits he actually has electrokinesis, something he had been keeping from Claire from a reason. This upsets Claire, and for the first time she actually doubts if she is still doing the right thing. However sticking to her promise she made a while before, she helps him out with his skipping class. Claire tries to convince her sister by telling her about her connection with Seth, but Payton refuses to listen. Claire and Payton disagree on the plan to evict the Dawsons, and Claire sabotages Payton's spell, resulting in Lauren and Nate being affected.


With the spell sabotaged, Payton's hand is forced and eventually she shows up at the magical gathering that the Dawsons are holding to prepare for upcoming attacks from their enemies. Following the gathering, Claire gets trained by the Dawsons. However during the attack she is left vulnerable, and Claire's life is saved by the interference of Alyssa Miller.
Season Two
Edit
When Claire awakes from her coma she is very weak, and it takes her a little while to recover. Ultimatly she does, but she wakes up with amnesia. While recovering in The Silverstone House, Seth tries to help Claire regain her memories. Eventually they go on a walk, where Claire's memories return, including the memory from prom. When they arrive back at Claire's house, Claire and Seth share a kiss.

/Liam/

It is revealed that Liam is their paternal half-brother. Claire remains open minded while her sister has a disliking in Liam from the start.

Claire eventually lets Liam go but warns him to stay away from Payton.

/Losing powers?/

/Lucy's death/

/Debutante stuff/
Season Three
Edit
In Senior year Claire develops her interest in fashion to the fullest, while finding a good friend in Alyssa who has moved to Waterfall Creek and attends SJBS as well.

/death of Jodie & Keith

Claire finds herself a bit shut out by Justin, and so she is left to grieve the people who helped raise her. Claire eventually graduates second in her class, and gets to hold a speech.
Season Four
Edit
In Season Four Claire and Seth return to Waterfall Creek after Claire graduated FIDM, but tension between them is high due to their fights regarding Claire's bloodmagic. It is also revealed that Claire had a stalker in school which she didn't tell Seth about, and they try to work through their communication issues. At the beginning of the season Claire gets an e-mail about her former mentor during her summer internship in New York, and she is inspired to start her own clothing line to show off her work which up untill now had been sitting in boxes. She starts working on the idea and Jason helps her out with the business aspects. Alyssa also steps in to offer financial support, and Claire and Alyssa start working together closely.

/Payton's pregnancy/



Season Five
Edit
| | |
| --- | --- |
| Claire is maid of honor at Payton and Jason's wedding. | |
Season Six
Edit
In Season Six Claire is busy working on her fall collection, but she has to pause that when May attacks. When Payton is kidnapped, a pregnant Claire shows up at Spellman Manor to exchange Payton's life for her own. Knowing May is after their children more than them, Claire pretends to agree to May getting one of the twins. Claire then tricks May into feeding on her blood, which results in May dying because Claire has made her blood poisonous to vampires. Severely anemic, Claire is taken to the hospital where Linda checks up on her and her babies.

Claire finds out that Alyssa and Jason both died due to her actions. Claire feels guilty for forcing both of them through detox. Seth tries his best to calm Claire down for the sake of her pregnancy. However when Liam shows up at the house, now a human, Claire has no choice but to deal with him and she allows him to stay. She tries to help him adjust to human life, while preparin for her daughters to be born.

/TWINS BORN/

/Phoebe's graduation/

/4TH OF JULY - PIERRE/

When Pierre shows up at 4th of July and reveals himself as a wizard, Claire sees his actions in high school in a different light. She shares a talk with Pierre, and they talk about the alternate future they could have had. Soon after, Claire starts to notice the crystals inbalancing quickly, which she attributes it to the fact that she has been working on her clothingline so much. Mila then suggests she should hire a co-designer to help out with the workload. Claire decides to hire Chloë Curtis to work at the store.

Things go haywire when the Hainasoni Bloodline arrive in town, and Claire realizes that the crystal's reaction is because there are too many witches and wizards in one place. Claire calls in a royal meeting, and adresses the issue to the royals. The next morning, Chloë has left and Claire feels guilty for chasing her out of town. Claire tries to comfort her brother for loosing someone he loves.


/Seth's proposal (teamwork with Justin)/

Seth proposes to her. She accepts the proposal, and proudly shows off her ring to her sister when they return. When she goes to tell Justin the good news, he states he already knew because Seth asked his permission.

When Alyssa warns that the Anconi is going to come after them, Claire organises for the entire family to train together. She also works on a plan to keep their children safe, and she modifies a variation of the eviction spell she used in high school to keep Justin, Mike and their kids safe. Claire stays with them at the house, holding up a protective shield, until the last possible minute when she is needed at the fight with the Anconi.
Personality
Edit
Claire is into arts and fashion, and she is very visual. She prefers images over text, and she doesn't always think her plans through. This makes her spontaneous and joyfull, but she is also flawed because she had no time-management skills. Sometimes Claire's worst quality is that she can be a bit selfish, without meaning too. However she is very caring towards her family, and her darkest times are those when she is in a fight with one of her loved ones. Claire has developped a business instinct in the later seasons, and she starts becoming better at thinking her ideas through.
Appearance
Edit
"
I wanted her light hair to frame her face the right way and have her dress do most of the talking from there on...
"

— Mila describing Claire's styling at junior prom
Claire is a beautiful, attractive young woman with blonde hair, green eyes and a heart shaped face. She has relatively fair skin in comparison to her elder sister. She has a relatively slender build, but is pretty tall at 5'6".
Claire has a thing for braids, and is usually seen with one in her hair somewhere. She often calls in Mila's help for her hairstyles during prom and debutante parades. She wears makeup, but when her twin daughters are born she tones it down a bit. She does like to go all out on special occasions, like a night at the club.
Her clothing style is generally girly. She likes wearing dresses, but she also has a comfy casual style. She is a fan of colours, and also likes to experiment with different styles. She is often a trendsetter in style and fashion, which she later turns into her career. She made her own dress at senior prom.
To see Claire's outfits throughout the season, see Claire Silverstone/Appearance
TO BE EDITED. Besides the powers she was born with she is able to do different kind of spells in different kind of difficulties. The most powerfull spell she ever did was a resurrection spell. 
Telekinesis: She can move stuff and people arround without touching them. Making it easy for her to lift stuff and put stuff back where they belong. But it's also a good way of protection. 
Mindreading: Claire can read the minds of people around them. The only ones she can't read minds of are Jason, Seth and Alyssa, due to a ring they wear. She always knows it when someone is lying, but the mindreading can be a burden too. It is hard to hear someones thoughts if you actually don't want to hear them. She knew Justin liked her, because of his thoughts, but she actually really didn't want to know. 
Orben: Orbing is teleporting from one place to another just by thinking of it. It's a handy trick to get from one place to another. The difficult thing about orbing is not being seen and the fact that you have to be with two people to do it. One person to dematerialize and one to materialize back. It is hard to explain how you just appeared out of thin air to someone who is not familiar with witches and vampires. 
Seeing the future, past and present (visions): Claire gets visions, mostly in dreams, in which she can see the future, past or present. The visions are really disoriënting, because they rip her out if reality into some kind of weird reality, but most of the time those visions can prevent the most dangerous situations from happening. 
Shield: Claire is a shield. She can protect herself, and others, from physical and mental harm. It takes a lot of concentration and the shield has to be activated before the attack has started. In the middle of an attack the shield won't work as well. 
Claire has a talent for drawing, and using colors to create something beautiful. She trained herself in designing clothes, and she always carries around needle and thread.
Education and Career
Edit
Claire lived in Divitia from the age of 2 until 13. After that she goes back to Waterfall Creek to live in the SJBS dorms with her sister Payton.  Claire was a Senior in the 2009-2010 school year. She took. Claire was encouraged by her friends and family to pursue her dream of designing fashion, despite of her magical responsibilities. She chose to move out to California, to study design in a four year degree, which she finishes in 2014. In the summer of 2012 she has an internship in New York. She moves back to Waterfall Creek and focusses on mentoring Phoebe, putting her dreams aside for a while. In early 2015, Alyssa encourages Claire to do something with her degree, and they come up with the idea to collab on a clothing store for Claire's designs. Claire opens Down the Rabbit Hole in late 2015, and goes on to create several collections, even throughout her pregnancy with the twins. After meeting Jacob Thompson in 2017 she hires him as co-designer, and expands her brand to a store in Los Angeles, Through the Looking Glass. In 2020, Claire uses her contacts in New York to open a third store, Wonderland, which is managed by Alyssa who now lives in New York.
Residences
Edit
Claire was born in The Silverstone House like most witches in The Silverstone Family. She lived there first the first 2 years of her life, until her parents got killed. She then got taken to Divitia where she was raised by her caretakers and thought everything about magic. Being the crownprincess, Claire had spacious living quarters along with her sister. When she was old enough, Lucy Greene insisted she moved back to the human dimension, as not to lose touch to the human world.
Claire and her sister got assigned a dorm at SJBS. Claire lived there until she was 17, which is when she decided to renovate and move into her ancestor's house again for senior year. Afterwards she moved to California for college.
She finished a 4-year designing degree in California, living in a small studio a bit from campus. After finishing her degree Claire decided to move back to Waterfall Creek, living in her parents' house. There she lives and raises her children.
Relationships
Edit
TBA
Claire suffers from a fear of heights due to an incident as a toddler in the magical dimension involving a cliff.
Aside from English, Claire is fluent in Latin and her 'native' language from the magical dimension. She knows basic french too.
Claire doesn't use weapons like bows and athames until she loses her powers. Once her powers are returned, Claire is rarely seen using any weapons again, but is shown to be skillfull with them when she teaches Phoebe and Liam how to use athames.
Claire was the first witch to try and alter the boundary spell used to excile the Dawsons in Season One. This boundary spell is later frequently used such as security for the Silverstone House, the school and the store.
Like Payton, Claire didn't learn how to drive as soon as she turned 16, instead she waited untill the summer after her 17th birthday when Dylan proposed teaching her and her sister together.
Claire has shares in 1 business

Claire's Store (60% shares, but 100% profit revenue)